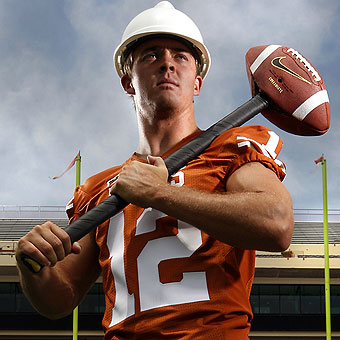 Jason Campbell isn't going to be the Redskins quarterback next season. This is something we all need to start coming to terms with. Yes, even you idiots in the anti-JC camp. Because you know who we're going to be stuck with in 2010? A rookie quarterback behind the same shitty offensive line we have right now:
Owner Daniel Snyder and Vinny Cerrato, Washington's executive vice president of football operations, recently attended a University of Texas game to scout quarterback Colt McCoy, according to sources within the organization. Cerrato also made a trip to conduct an in-person evaluation of Notre Dame junior quarterback Jimmy Clausen, who this week declared for the draft.

The belief among some at Redskins Park is that Snyder and Cerrato plan to use the team's first draft pick this year in their quest to find the Redskins' next franchise quarterback, which could signal the end of Jason Campbell's tenure with the team. He will be a restricted free agent at the end of the season, which means the Redskins could match any offers he received.
Back to you fuckheads who don't think Jason Campbell is a quality QB — ask yourself this, honestly: Would you rather have JC as the QB next season (and beyond) along with a new stud, first round offensive lineman OR would you rather have a rookie QB from a weak QB draft pool? In fact, the former part of the question could probably be revised: Would you rather have JC as QB along with two stud early round lineman after the Skins trade down to acquire more picks. Because they could do that. They won't, but they could.
Essentially what Snyder is doing by using a top 5 pick on McCoy or Clausen is banking the team's entire future on one of them. If we at least bulk the line through the draft, we have the foundation for a successful offense. Even if it isn't led by Campbell. Right now, we'd be throwing a rookie QB into a shitstorm of pain and punishment. Like Matt Stafford this season, only McCoy and Clausen combined don't have as much potential as Stafford.
And holy fucking shit, after all of the evidence we have seen ON THE FIELD over the past five seasons, why are we still being forced to lobby for this team to draft offensive lineman? How do they NOT understand this? Why the fuck is Vinny Cerrato still running this team? And when did Subway's sandwich artists become the equivalent of third graders who draw stick figures? THE TOPPING GO ON TOP OF THE MEAT, LADY, THAT'S WHY THEY'RE CALLED TOPPINGS.
Seriously, though, this has been a really, really enjoyable season.