Handing out labels following the Redskins 17-16 win over the Giants.
Winners
Robert Griffin III — Not spectacular numbers – 13/21 passing for 163 with 72 rushing yards – but he made the plays when needed, whether on purpose – the Pierre TD pass and the game-winning first down pass – or on accident – the fumble that led to the first touchdown. He's incredible, there's not much more to say.
Pierre Garcon — Eight catches for 106 yards, including the aforementioned game-winning touchdown and first down reception on the clinching drive. He was the Skins entire receiving corps last night. It's nice to have him around.
Kai Forbath — Still perfect.
London Fletcher — GOT HIM GOT HIM GOT HIM GOT HIM (Via KSK):
The defense — They gave up some plays, particularly to tight end Martellus Bennet and a long play to Victor Cruz, but they were the definition of "bend don't break," holding the Giants to four field goal attempts and just one touchdown.
The fans — The stadium was as loud as its been in years and you could hear the chants of "RG3" on TV.
Kyle Shanahan — The zone read and option seem to be confusing defenses more each week, instead of vice versa, and he keeps calling up the right plays at the right times (usually). Added bonus: No plays designed for Brandon Banks!
Losers
This guy —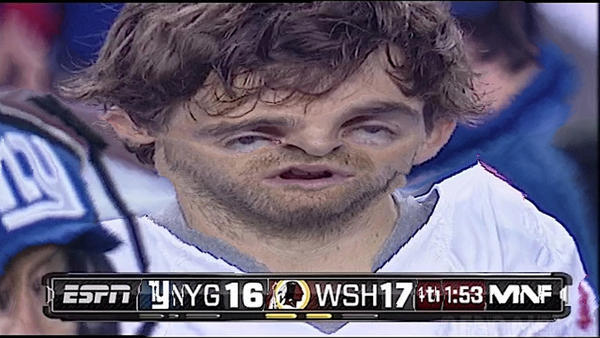 Redskins tight ends — Drops from both Logan Paulsen and Niles Paul. Get well soon, Fred Davis.
Jon Gruden — HERE'S A GUY who just knows how to make a National Football League football game completely unbearable.
Medium
Alfred Morris — Another big game on the ground with 124 yards to take him over 1,000 for the season and set a new Skins record for rookie rushing yards. But he did have that fumble. (Alright, "medium" might be a little harsh but I needed someone for this category.)