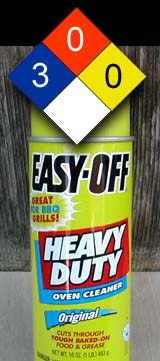 If you ever find yourself contemplating between vinegar or oven cleaner on your fries, go with the former, unless of course you're trying to kill yourself. In which case, I'd recommend a gun, but that's neither here nor there.
A couple of fat guys who like their french fries with vinegar, god dammit, found out the hard way what eating oven cleaner is all about at a Hagerstown Suns game in '03.
"The Hagerstown men claimed they suffered serious, permanent injuries to their mouths, throats and digestive tracts from ingesting sodium hydroxide that a Hagerstown Suns concessions worker poured from an unmarked plastic jug."
I'm fully aware that concession stand workers aren't members of Mensa, but they might wanna keep the unmarked cleaning product jugs away from the food. Complicated concept, I know. But hey, at least these two parlayed this into some money. They won their lawsuit over the incident four years after the fact.
Hive Five! to my friend Paul for sending me this story. He doesn't have a blog because he's way more successful than I'll ever be and doesn't have time for tomfoolery.
Update: Thanks to twoeightnine for pointing out my shortcomings. Apparently this story was already on some site called "With Leather." Never heard of it. I hadn't seen it, dicks, so maybe there's one of two people out there who hadn't either. Not likely, I know.