« JMU Comes Up Just 21 Short | Home | DMV: Dunk City USA Buries Georgetown »
By Jamie Mottram | March 25, 2013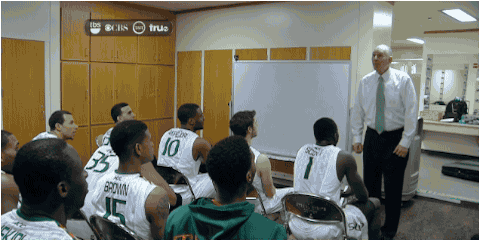 Two big bits of news this morning until JP comes through with today's DMV a little bit later:
1. Our old friend Jim Larranaga seemed to be having a good time after his Miami Hurricanes advanced to the Sweet 16, where they'll play in D.C.
2. George Mason is officially leaving the CAA for the A-10. Good for them, but probably bad for JMU.
Topics: GIF Parties, George Mason | 3 Comments »
3 Responses to "Larranaga Loves March So Much"
Wcked Pixels Says:
March 25th, 2013 at 12:42 PM

As a GMU Alum I couldn't be happier for Coach L and I hope they go all the way.

The GMU powers finally got some help with that Rectal Cranial Inversion they have had for a while and made two good decisions. 1) Sucked it up and played in the CBI to get the team of almost all underclassmen some more tournament experience 2) Made the move from a shadow of its former self conference that is more interested in football to a much better, basketball centric conference.

Phil Says:
March 25th, 2013 at 6:26 PM

I heard the CAA will be moving their conference tourney to Baltimore.

I'm also super ecstatic for Jim Larranaga and have been on DA U bandwagon for the past couple of weeks.

deepvalue Says:
March 26th, 2013 at 8:44 PM

There is a segment of Mason fans that have gone underground to root for Coach L at Miami and transfer Luke Hancock at Louisville. Seeing them in the final would be pretty, you know, awesome. Also rooting for Hewitt to pull a Matt Brady and find a Mike Deane to work with him. That would help.
Comments