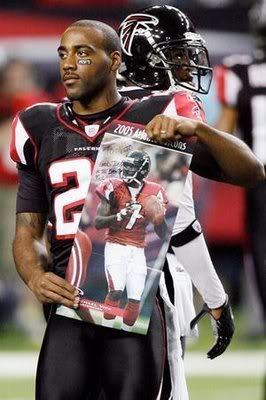 According to Mike Florio, the Redskins should be atop the list of possible Mike Vick destinations because A) they tried to acquire Jay Cutler and Mark Sanchez during the offseason; B) DeAngelo Hall said during a radio interview over the weekend that Vick deserves a second chance.
(I understand that this is the sort of loose speculation on which PFT was built, so giving it credence is kind of silly. But this Vick-to-D.C. talk is working its way around the internets, so we should address it anyway.)
To point A: Just because the Skins went after two QBs does not mean they would go after any QB. Mike Vick is not a good fit for the west coast offense. We know this because he already tried it out in Atlanta. It didn't go well.
To point B: D-Hall is Vick's friend. They played together in college and in Atlanta. He has always shown very public support of Vick. Continuing this support does not mean that he is somehow trying to influence the team to sign his friend. In fact, in the same interview in which he said Vick deserves a second chance, he also said the the 49ers would be the best suitors. Lemme find the exact quote … ah yes, here it is: "I think a perfect situation would be a place like San Francisco."
Although, to be fair, Florio concedes that Hall isn't lobbying publicly for Vick-to-D.C, but could be doing so behind the scenes. Which leads to this point: I highly doubt Dan Snyder comes to DeAngelo Hall for advice in making personnel decisions. I have no insider information about this – just a hunch.
Other issues ignored by Florio but addressed by JLC at RI: At best, Vick won't be available to join a team until the end of the summer … Vick will bring with him a media/PETA shit storm (which may actually be the only attractive piece of this for Snyder) … Vick and Campbell share the same agent, which is perhaps the biggest roadblock to this entire thing.
So there: Vick is not coming to the Redskins.
/Jinx