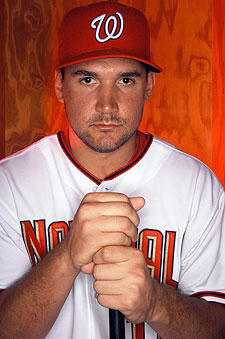 Pointing our readers in the direction of Ryan Zimmerman's blog on Comcast SportsNet's site might be bad for our t-shirt shop business, but it must be done. Agent Steinz alerted us to Zim's blog, which has one post so far, titled "My 1st BLOG!!!" For Ryan's sake, I really hope his ghostwriter is a 12-year-old girl. An excerpt:
This is my first blog of many this season. First off, it's nice that we have put together some wins lately.

The new stadium is fantastic!!! If you have not been out there yet with the weather getting nicer, please come. It's an incredible ballpark.

It's been so nice to see good size crowds. It really is fun to play before a loud crowd that is into the game.

I hated to see Wizards lose in the playoffs. I went to a lot of games this past off season and it was so much fun.
Surprisingly, there wasn't a happy faced smiley after "fanastic!!!" nor was there one with a single tear after the bit about the Wizards. And that excerpt is not only the majority of the post, but it's exactly as it was written — nothing was taken out of order or context. Shit, maybe Bissinger was right. I am dumber for having read that blog.
But hey, great idea by whoever came up with this doozy over at Comcast. I mean, it's, like, soooo obvious that being a famous athlete equates to being a good blogger.