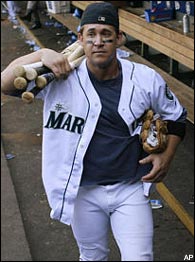 Bret Boone might be my new hero. In 2001, he was able to hit .331 with 37 homers, 141 RBI … and a nasty hangover. The Nats newest back-up second baseman revealed this week that he used to have a touch of the alcoholism:
Boone, 38, revealed that an alcohol problem was the reason he retired. … "I was probably one of those players that every single day of every season, I would at least have a few beers," Boone said. … Boone's problems started in a more subtle matter, but it got to a point where he would drink 12 to 15 beers after a game. At age 32, for example, Boone recalls drinking heavily after a game and then going 3-for-4 the next day.
Boone says he was "one of those players" who drank beers every single day. So, that means there are other pro ballplayers getting drunk after each game? Awesome. I thought that fad ended when Will Clark retired.
Bret did get help for his "problem" a few years ago by spending 26 days locked up in a fun-free rehab center. While seeking help for yourself is impressive and all, I'm still more amazed by his ability to drink a 12-pack and then rack up three base knocks the next day. I mean, I've been known to make it into work after a Guiness and car bomb filled Wednesday night, but all I have to do is sit there with my headphones on and focus on not puking all over my keyboard.