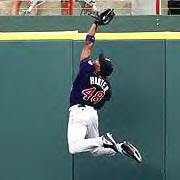 Thank god Washington has Dmitri Young … and plenty of African-Americans in the city. These seem to be the two main reasons that soon-to-be free agent Torii Hunter is interested in coming to Washington:
"Dmitri Young makes it very interesting. I've always wanted to play with Dmitri. … I always talk to my wife about being interested in playing in front of the African-American fans and trying to get the African Americans back to playing the game … Trust me — D.C. is very interesting to me."
You hear that, honkies? Get the hell out of the city. If he comes to visit, I don't wanna see one vanilla face within a 20 mile radius of the stadium.
But realistically, the Nats probably can't afford him. Although signing Torii would be huge for the team. They desperately need a consistent, every day centerfielder. Last year, Nook Logan and Ryan Langerhans split time there. They combined for an impressively horrible .218 BA, .617 OPS, six homeruns, and 44 RBI. Yep, I'd say Torii would be a minor upgrade.